Mouthwatering, homemade Christmas cookies never tasted any better
Hang on for a minute...we're trying to find some more stories you might like.
The holidays are around the corner, and everywhere you look you see nothing but pictures of delicious Christmas-themed recipes. They make your mouth water, and you wish you knew how to make them.
While some recipes are too difficult for some to handle, others just don't give you enough information. This Christmas-themed reindeer Oreo cookie™ ball recipe meets right in the middle for a delicious, easy and informative Christmas cookie how-to.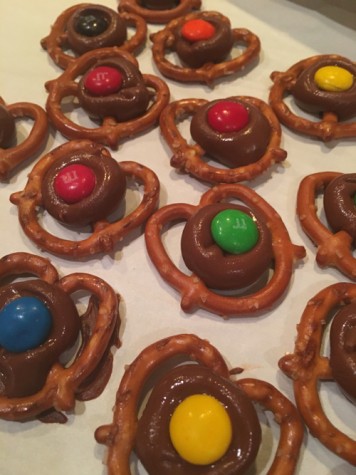 Pretzel Hershey Kisses™
Stuff you need:
Circle shaped pretzels
M&M™
Hershey Kisses™
Directions:
Preheat oven to 250 degrees Fahrenheit, and line a baking sheet with parchment paper.
Place the pretzels on the baking sheet, and put the unwrapped Hershey Kisses™ on the pretzel.
Place in oven for around 4 minutes or until the Hershey Kisses™ are melted.
Quickly, remove from the oven, and place one M&M™ on immediately.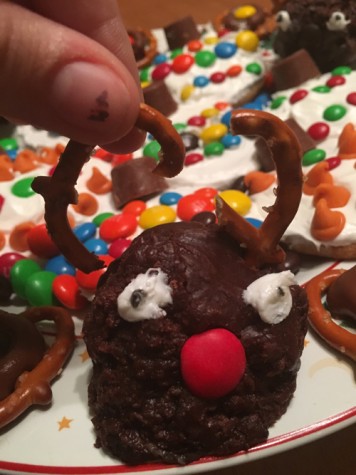 Reindeer  Oreo cookie™ Balls
Stuff you need:
Chocolate

Oreo cookies™

Cream cheese
White and black frosting

M&M's™

Mini pretzels
Directions:
Start by crushing your Oreo cookies™  into small crumbs, then mix it together with cream cheese into little balls about one inch wide.

Freeze the cookie crumb balls you just made for 10 minutes.

Next, simply melt a bowl of chocolate, and dip the cookie crumb balls into the chocolate, then place on a pan.
Decorating:
Break a mini pretzel into two pieces.

Place the two broken pieces of pretzel onto each side of the Oreo cookie™  ball.

Make two eyes using white and black frosting, and add a M&M™  for the nose.

Put the reindeer Oreo cookie™  balls into the freezer for one hour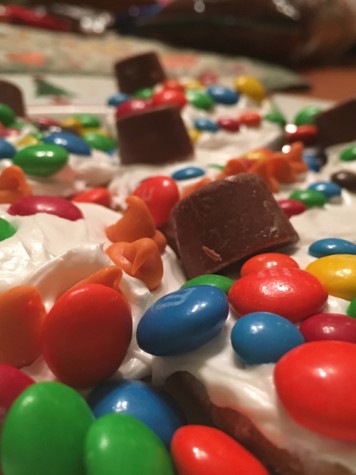 Ornament Cookies
Stuff you need:
Ready-to-bake sugar cookies

White frosting

M&M's™

ROLO™ caramels

Mini Hershey Kisses™
Directions:
Follow the directions for preheating and baking times on your ready to bake sugar cookie package.

While the sugar cookies are in the oven, get out your frosting, M&M's™ , ROLO's™  and Mini Hershey Kisses™ .

Take the sugar cookies out of the oven when ready, and put white frosting all over the cookie.

Add your M&M's™  and Hershey Kisses™  in any pattern you want, and put a ROLO™  on the top of the cookie.